A study done by recruiting firm Accounting Principals indicates that 39% of American employees are napping at work. The sandman must be working a day job!!!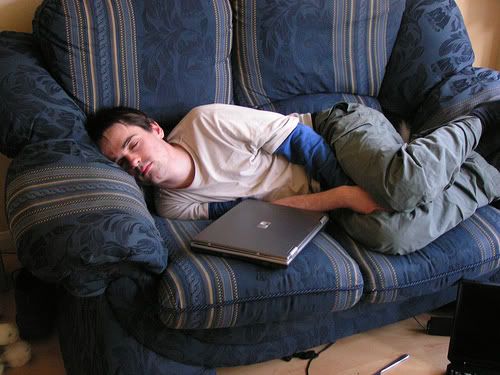 But don't call these people lazy. There are actually potential benefits from taking a nap, such as improved memory, creativity and cognitive ability.
If you are considering napping at work, set an alarm for 20 minutes. Sara Mednick, author of Take a Nap! Change Your Life, says that at about 30 minutes of sleep, we fall into the deepest form of sleep, slow-wave, and we may return to work in a fog. It is hard to adjust back to the real world if we wake in the middle of slow-wave sleep.
You might also look at the reasons why you feel the need for taking a nap. What has your diet been like that day? How much and what quality of sleep did you get last night? Are you on a regular exercise program?
Here are some helpful habits to develop to encourage better sleep that will help to eliminate the need for a nap at work:
☼ Eat a good breakfast with quality protein
☼ Have a midmorning snack that does not contain a lot of sugar.
☼ Make sure your lunch is a healthy one, avoiding beef, pork or other hard-to-digest foods.
☼ Get 7 to 8 hours of sleep each day.
☼ Establish a regular bedtime and stick to it.
☼ Exercise at least 4 times per week. Do this at least 2 hours before your newly established bedtime.
☼ Take time to meditate or just get quiet in your mind for 5 minutes per day.
In general, take good, balanced care of yourself.